Ally Arena created in Fortnite
#AllyArenaNWSL
Gather your squad to play Athletically, the new National Women's Soccer League (NWSL) speed run mini-game in Ally Arena.
Athletically Code
2976-8171-9813 Introducing

Feed your need for speed in Ally Arena's newest portal. We teamed up with Hendrick Motorsports to build a world inspired by the iconic No. 48 car and driver Alex Bowman. Drop into the portal to try four racing-themed mini-games and experience the power of Epic Games' new Unreal Engine for Fortnite. Explore the Ally Arena hub.
Complete daily challenges, stack XPs and show off your glow in the arena's hub.
Fill the canister.
Complete each day's challenge to earn XP and fill up the canister. Once it's full, everyone on the map gets a surprise! Tip from an ally: the more players completing tasks, the faster the canister fills.
Get bragging rights.
Dominate the mini-games and we'll display your avatar's statue for everyone to see.
Show your glow.
Complete the mini-game challenges to unlock each of the four Ally cosmetic glows.
How to get there.
Steps
Open Fortnite and select Change to access the Discover page

Select Island Code at the top of the screen

Enter the 12-digit island code (3804-0541-8611) and select Play to load the island

Once you select Play, the island should show up under Change. Now you're ready to launch the game. Select Play again and load into the island
Play the mini-games.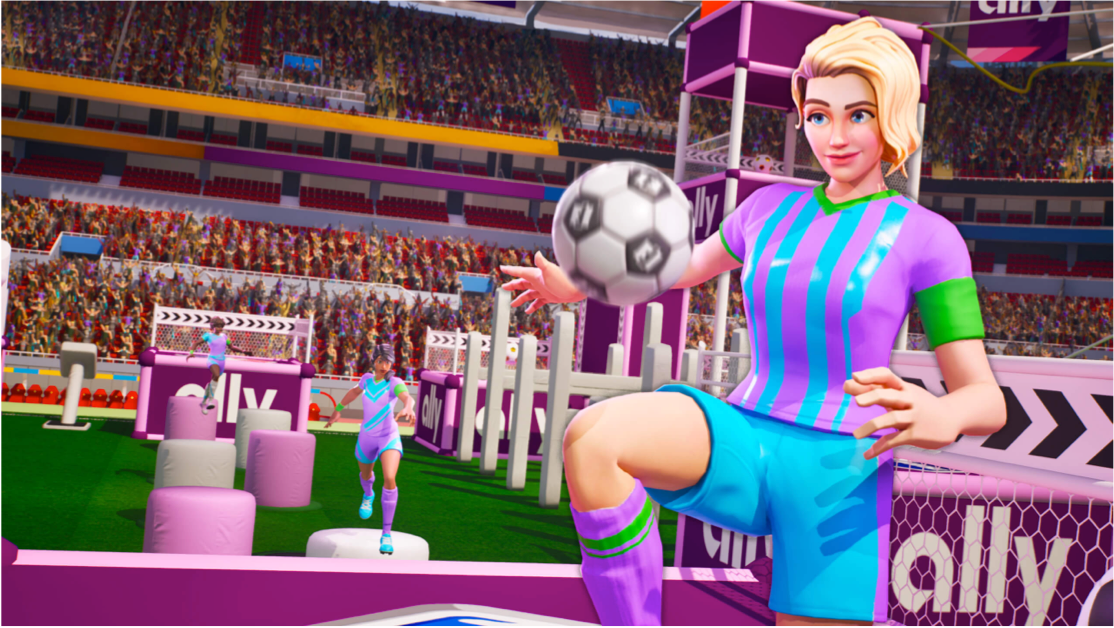 Run, climb and jump your way to the finish line in this NWSL-themed speed run game. Can you get the fastest time?
Tune into the dual stream
Littlest Snail
Join stream
Allie Long
Join stream
Thiefs
BonsaiBroz
Loeya
More to explore in the Ally digital universe.
Fintropolis is a world for Minecraft that uses real-world scenarios to introduce gamers to financial concepts.
In 2020, we launched an island in Animal Crossing to help improve financial literacy for people of all ages, particularly young gamers.
We're proud to support the Rocket League Championship Series — and to advance women in eSports by headlining the Ally Women's Open, a women's Rocket League tournament.
Get social.